WSSBC - Summer / Fall Dream Optics Raffle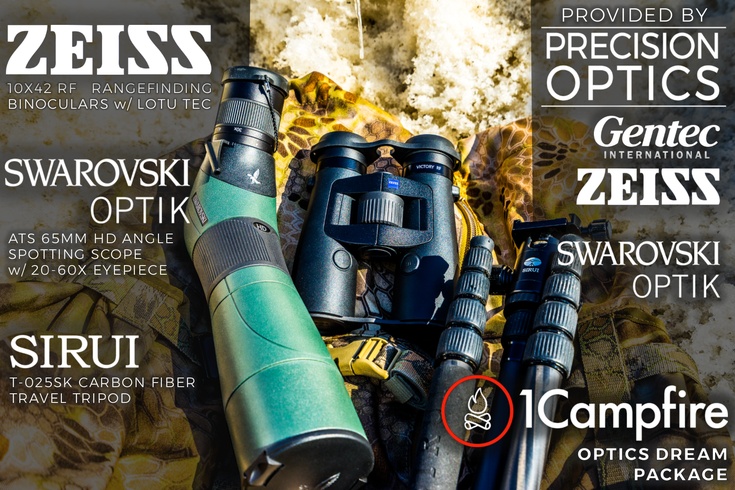 Our 2019 Dream Optics Raffle is an opportunity to support Wild Sheep Society's new Hunter Heritage initiative. The proceeds from this fundraiser will go directly to our 1Campfire campaign ensuring that future generations will enjoy the privileges and pursuits we do. Our sponsor Precision Optics has generously donated the entire optics package in support.
SOLD OUT
DRAW DATE: Dec 01, 2019
DRAW Time: 17:00
Grand Prize - Campfire Dream Optics Package - $9,089.92
Zeiss Victory RF 10x42mm rangefinder binoculars Swarovski ATS 65mm spotting scope with 20-60x eyepiece Sirui T-025X carbon fiber tripod
2nd Prize - Sitka Gear package - $2,133.40
Jetstream Jacket Timberline Pants Mountain Hauler 6200 Backpack Merino Core Lightweight Half Zip Merino Core Lightweight Bottom
3rd Prize - Stone Glacier Sky Talus 6900 - $1,041.98
The Sky Talus 6900 is a full feature pack designed to blend light weight design with increased access and organization. A 6,400 cubic main bag with 500 cubic inch lid, the Sky Talus has 4 external side pockets.
Address
#101-30799 Simpson Road
Abbotsford
British Columbia
Canada
,
V2T 6X4
Tickets may be sold and purchased in British Columbia only. Orders will not be accepted via the internet from anyone outside the province of British Columbia or any non-residents of British Columbia. Ticket purchasers must be 19 years of age or older. If a winning ticket bears a minor's name, the prize will be lawfully delivered on behalf of the minor to the minor's parent, legal guardian or trustee.
Chances are 1 in 1500 (total tickets for sale) to win a grand prize.
BC Gaming Event Licence #117896
Know your limit, play within it