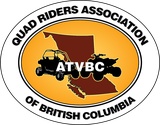 Address
Box 146
Vanderhoof
British Columbia
Canada
,
V0J 3A0
Quad Riders Association of BC Raffle
This raffle supports the ongoing efforts of the Quad Riders ATV Association of British Columbia (ATVBC), whose mandate is to provide leadership in sustainability, safety training and environmental awareness and to advocate for shared trails through responsible use and collaboration with other user groups. ATVBC Guiding Principles and Values: https://atvbc.ca/about/about-us/ Become a member: https://atvbc.ca/membership-options/ Affiliated clubs: https://atvbc.ca/clubs/
DRAW DATE: Aug 24, 2019
DRAW Time: 15:00
Grand Prize - Can-Am Trail 800 DPS SxS OR 15,000 cash - $19,212.48
Can-Am Trail 800 DPS SxS or $15,000 cash (SxS value $19,212.48). SxS supplied by Greater Vancouver Powersports
2nd Prize - 2500 cash - $2,500.00
3rd Prize - 1000 cash - $1,000.00
4th-5th Prizes - 250 cash - $250.00
6th-10th Prizes - 100 cash - $100.00
Tickets may be sold and purchased in British Columbia only. Orders will not be accepted via the internet from anyone outside the province of British Columbia or any non-residents of British Columbia. Ticket purchasers must be 19 years of age or older. If a winning ticket bears a minor's name, the prize will be lawfully delivered on behalf of the minor to the minor's parent, legal guardian or trustee.
Chances are 1 in 7500 (total tickets for sale) to win a grand prize.
BC Gaming Event Licence #114399
Know your limit, play within it