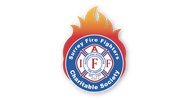 Address
18922 88th Ave.
Surrey
British Columbia
Canada
,
V4N 5T2
Surrey Fire Fighters' Charitable Society's First Ever Online 50/50 Raffle
Due to Covid 19 the Surrey Fire Fighters' Charitable Society has been forced to change the way in which we raise funds for the 85+ initiatives that we support on an annual basis.
Each year we deliver over $1M in funding to organizations that have come to count and rely on us. Please join us by purchasing tickets today!
DRAW DATE: Oct 31, 2020
DRAW Time: 13:00
Congratulations to this year's Winner!
Winner of the 50-50 Draw – Katy M (13486)
Tickets may be sold and purchased in British Columbia only. Orders will not be accepted via the internet from anyone outside the Province of British Columbia. Ticket purchasers must be 19 years of age or older. If a winning ticket bears a minor's name, the prize will be lawfully delivered on behalf of the minor to the minor's parent, legal guardian or trustee.
Chances are 1 in 15800 (total tickets for sale) to win the 50/50 prize.
BC Gaming Event Licence #126915
Know your limit, play within it