#danistrong Platinum Sheep Hunter Package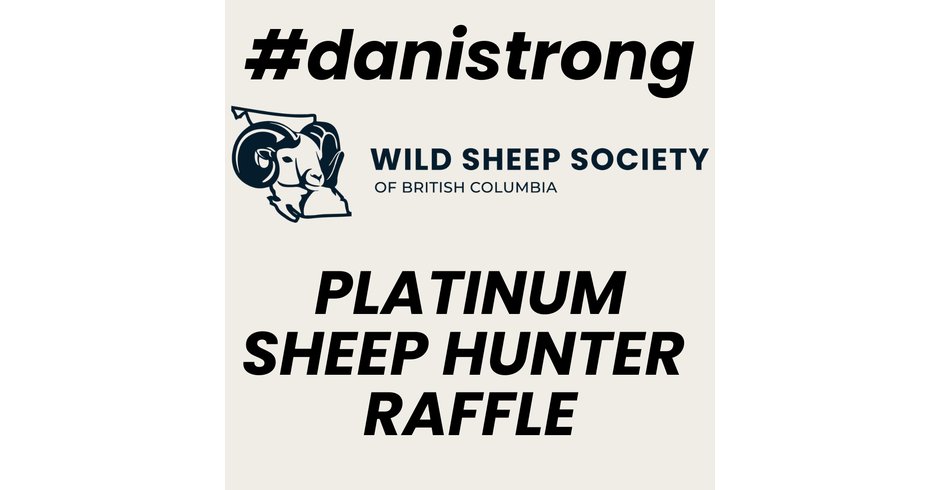 Address
#101-30799 Simpson Road
Abbotsford
British Columbia
Canada
,
V2T 6X4
This past winter WSSBC Monarch Member Denis and his wife Tressa tragically lost their daughter, WSSBC Life Member Danielle Cabana. Danielle was an avid young outdoorswoman and Denis's little hunting partner. True to our wild sheep family, one of our members spearheaded a campaign to recognize Danielle's legacy through this incredible raffle offering.
The proceeds from this raffle package will go toward the Wild Sheep Society of BC's projects and initiatives, however, we will honour Danielle ensuring her legacy by awarding her Monarch Membership status. If we are able to raise over $25,000 through this raffle, Danielle's legacy will continue with the Society having her recognized as a Platinum Monarch. Please note that the proceeds will not go to the Cabana family, they will support our conservation initiatives right here in BC.
DRAW DATE: Nov 04, 2023
DRAW Time: 19:00
Congratulations to this year's Winner!
Congratulations to Final Draw (Main Raffle Ticket) Winner!
Grand Prize – Ryan T (01131)
Grand Prize - Platinum Sheep Hunter Package - $32,336.43
This package contains every piece of kit every sheep hunter wished they owned. Gunwerks Nexus rifle - 6.5 PRC - 24" stainless steel barrel - Gunwerks Directional Brake - Gunwerks hard case with fitted foam insert - Gunwerks flush-cup sling with "Dialed-In" range service. Zeiss - Conquest - V4 - 6-24x50 with Precision Rings - 30mm - 0.85" and Atlas - BT46-LW17 bipod, Leica - Geovid Pro 42 - 10x42. Stone Glacier - Skyline Binocular Harness - Large - Granite Grey, Leica APO - Televid 65mm Spotting Scope Kit w/ 25-50x Eyepiece, Sirui - 024SK Carbon Fiber Tripod, Stone Glacier - 0 Degree Chilkoot Sleeping Bag, Stone Glacier - Sky Tarp 10, Thermarest NeoAir UberLite Orion S Downmat, Thermarest Airhead Lite Regular. MSR Windburner 1.0L Stove System, MSR Coffee Press for Windburner 1.0L, GravityWorks 2L Complete Water Sterilization Kit, MSR DromLite 2L Water Bladder, Titan Titanium Cup, Titan Titanium Fork & Spoon, Kifaru Fullcrum with Duplex Lite Frame System, 2 x Medium Belt Pouches, Gen 2 and more!
Tickets may be sold and purchased in British Columbia only. Orders will not be accepted via the internet from anyone outside the Province of British Columbia. Ticket purchasers must be 19 years of age or older. If a winning ticket bears a minor's name, the prize will be lawfully delivered on behalf of the minor to the minor's parent, legal guardian or trustee.
Chances are 1 in 2000 (total tickets for sale) to win a grand prize.
BC Gaming Event Licence #143896
Know your limit, play within it